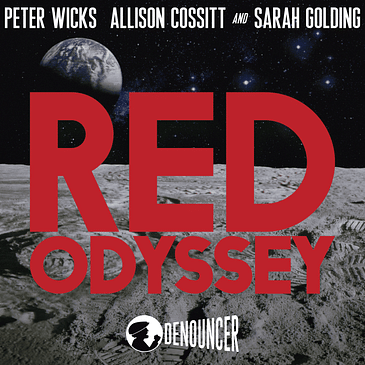 RED ODYSSEY
The year is 1983. The threat of war simmers between the Soviet Union and the US. The moon watches the Earth like a slowly blinking eye, and within the black depths of the cosmos... something watches the moon. Cosmonaut Ilia Zakharov (award-winner PETER WICKS) sits in a dark room in the USSR; a broken man with the soul of a poet. He controls a lunar rover called FANTOM IX (ALLISON COSSITT), the newest model in a series of machines designed to explore the surface of the moon. Together they uncover secrets that could determine the fate of all life on Earth and form a bond that transcends space and barriers. East and West stand at the brink of nuclear war. And yet, something far, far worse is coming. Something the human race is not ready to greet. Something unknowable. Something malevolent.

Make no mistake, this eldritch horror story isn't your usual sci-fi. Be prepared to be led on a journey where the stakes are larger than life itself. You'll never look at the night sky the same again. And whatever you do—don't let IT see you.


Directed and Produced by Ari Rosenthal. Written and Associate Produced by Carmenn Kocznur. Adapted from his original short story "Fantom IX." Starring Peter Wicks, Allison Cossitt, Sarah Golding, Erika Sanderson, James Scully, and Brandon Levine. Additional Voices by Peter Wishinski and Karim Kronfli. Dialogue Editing by Benton Hodges. Sound Design and Mix by Manas Kunder. Score by Jacob Zeranski. Special thanks to Matt Richmond and the Audio Drama Lab.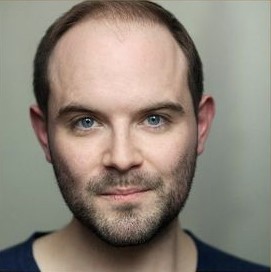 Peter Wicks
As "Ilia Zakharov"
Peter Wicks (@is.it.peterwicks) is an award-winning actor and multi-award-nominated voice actor and voiceover artist. On stage, he has performed in classical and modern productions everywhere from the Edinburgh Festival to Shakespeare's Globe. Audio drama credits include Victoriocity, Night Shift, Wooden Overcoats, Drayton Trench, The Strata, Archion, and Ramon Fear's Terror Tapes. He has also voiced a variety of characters in both indie and triple-A videogames, including World of Tanks, Age of Darkness: Final Stand, Moonbriar, and Tainted Grail: The Fall of Avalon.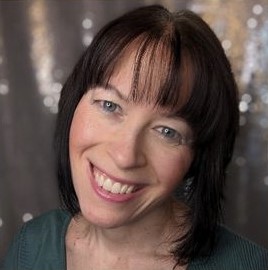 Allison Cossitt
As "Fantom IX"
Allison has a BA in Theater from SUNY Buffalo, and pretty much figured out that voice acting was what she was meant to do 15 years ago... but then forgot. She tried being all sorts of other things like a barista, ESL teacher in Indonesia, escape room writer, health coach, jewelry maker and the creator of live action murder mystery games, and finally remembered that voice acting is her favorite thing ever (aside from her pet rats). So now she's back and ready to take the world and/or the moon by storm!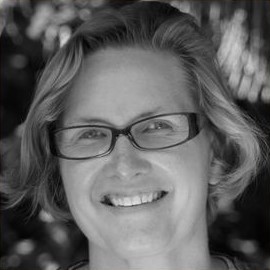 Sarah Golding
As "Dr. Mesiya"
Sarah Golding is an award winning voice actor in a wonderful array of groovy audio fiction and writes produces and acts in her own shows with Quirky Voices. She is a founder and co-ordinator of the the Audio Drama Hub Podfest, speaker at festivals on audio fiction creation and voice acting, and runs brilliant unmissable courses on the same. Check the website for new dates! She also runs audio drama hub virtual pubs to help the community connect and @audioauditions to share casting calls, and contributes to The Fiction Podcast News Weekly - an unmissable newsletter for audio drama creatives! As a proactive member of the creating audio fiction community she makes interview shows on the craft of creation -Indie AF, MADIVA and co-hosts the writing for audio drama podcast ADWIT. She is also Production Manager at multi-award-winning Wireless Theatre and can't wait to produce more superb audio fiction with this bastion of British audio drama. Fave current shows she has been involved in as VA include Edict Zero, Rosa Kranz and Gilda Stern aren't dead, Amelia Project, Silt Verses, Alt Fiction, Perfect Retreat, Re:Dracula, Cyclone podcast, Beyond Shakespeare, Tin Can's The Tower, Oz9 and A Scottish Podcast. If you need a quirky voice, ping her! @sarahofgolding https://www.spotlight.com/4616-0193-3016 https://linktr.ee/QuirkyVoicesSarah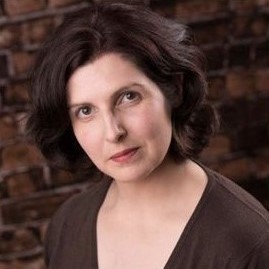 Erika Sanderson
As "Petra Kryuchkov"
Erika trained at the Royal Central School of Speech and Drama in London. A highly versatile character actor, her stage career has spanned over three decades during which she has created a myriad of roles in a variety of genres from children's theatre to classical plays and musical theatre. She's an award-winning voice actor, she can regularly be heard on The NoSleep Podcast, as well as appearing in other audio dramas and video games.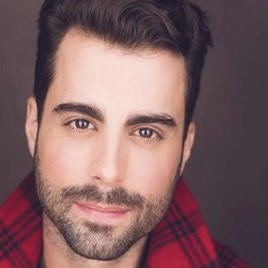 James Scully
As "Cosmodrome Security"
James Scully produces/hosts Breaking Walls, the docu-podcast on the history of American network radio broadcasting (https://buff.ly/3KDCXs9). He writes/directs/post-produces/acts in scripted audio fiction productions, like the 2022 official Tribeca audio selection Burning Gotham (https://buff.ly/3YAwL9R), the Frank Sinatra biopic musical And Then I Sing (https://buff.ly/447ZfZV), and the western adventure series Frontier Gentleman (https://buff.ly/440DxH6). He's also an actor in a theater troupe called The Fireside Mystery Theatre (https://buff.ly/4475UmQ).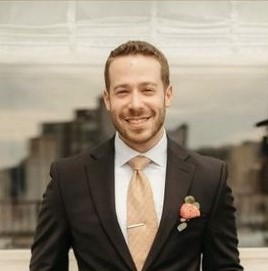 Brandon Levine

As "Sledstvenny Security"

Brandon Levine is a voice actor based out of Pittsburgh Pennsylvania. While he is a Doctor of Audiology during the day, Brandon has always been passionate about voice acting and voice over work. He especially loves to use his voice for narration and character work. Brandon has been featured on several podcasts including "Paralyzed" by 7 Lamb Productions, "Seminar" by Pendant Productions, and is voicing the main character in the upcoming "Spectre" video game by Symbiosis Games.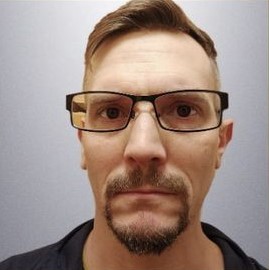 Peter Wishinski
Additional Voices
Peter Wishinski is a Canadian voice actor and music producer/DJ who has worked with Sole Twin audio and Eerie Earth productions and is excited to be working with Denouncer Media.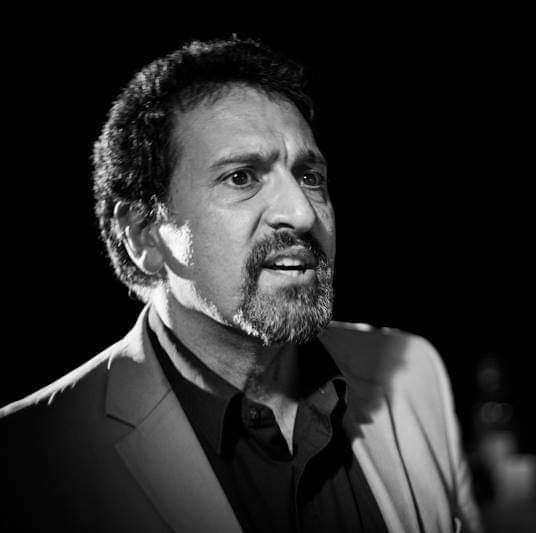 Karim Kronfli
Additional Voices
Karim has been a professional performer for over 30 years originally working as a juggler and firebreather. With plays, and film added to his professional repertoire Karim now loves directing as much as performing. Trained at City Lit in London he eventually got introduced to working behind the microphone at BFBS. Specialising in audio drama he has appeared in several shows such as. Unseen, What's the Frequency, The Magnus Archives, SCP Archives, Dr Who: Redacted and many more.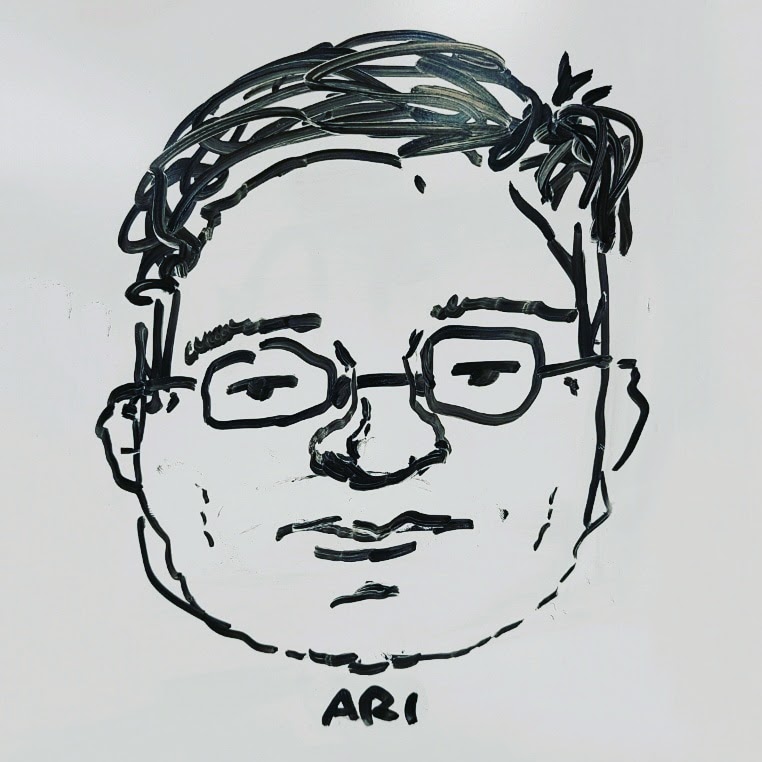 Ari Rosenthal
Director, Producer, and Founder
College student and founder of Denouncer Media, as well as the relentlessly perfectionistic director and producer of RED ODYSSEY. Together with all the (much more) talented collaborators that believe in Denouncer's mission, he's excited to bring it to life and create a narrative that matters now more than ever. Outside of audio dramas, Ari is deeply interested in medicine, public health, and beekeeping.

Carmenn Kocznur
The Wordslinger
Kocznur writes all manner of fiction. He has had short stories published in various magazines, and two original audio-drama produced over the air-waves. He is currently working on his cosmic horror/sci-fi canon, numerous film collaborations, adapting Red Odyssey for the stage, and various short story collections and novels. In short, he's busy af. He is an avid coffee lover and wannabe snob (Bialetti Moka pot only). He is deeply proud of his home city, Hamilton, and hopes to feature it in an upcoming surrealist / magical realism collection. Carm's award winning short story, Where Lazarus Sleeps, can be found in the Hamilton Mountain Writers Guild anthology series. His blog can be found at fictioninktales.wordpress.com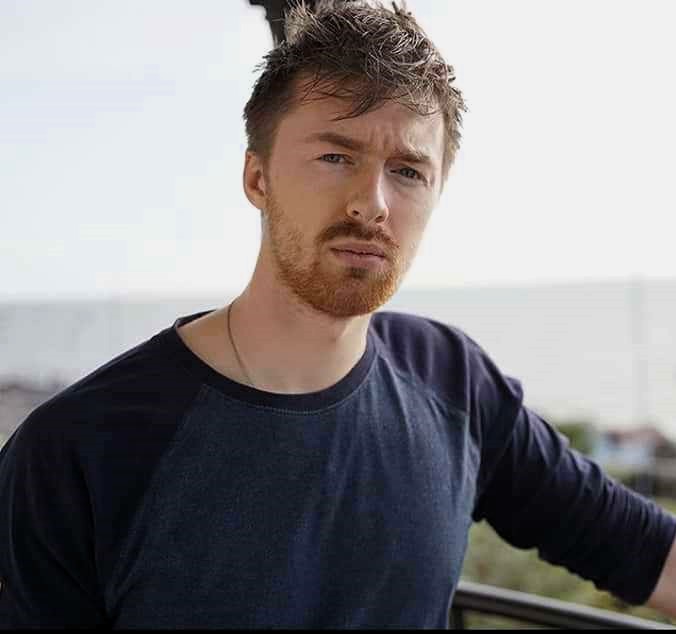 Benton Hodges
Dialogue Editor
Manas Kunder
Sound Designer, Mix and Mastering Engineer
Jakub Zeranski
Composer

Lauren N.
Social Media Manager

Lauren (she/her) is thrilled to be working with Denouncer as their social media manager. When she's not scrolling through the socials, she's working either as a freelance stage manager or in public health communications, and loves that she's able to combine the two with Denouncer.

Dominic Williams
Web Designer

He is a dynamic individual with a passion for science and the art of web design. While dual majoring in Biology and Particle Physics, He is also on a thrilling pre-med journey. With a background as a Certified Nursing Assistant (CNA) and Medical Assistant (MA), he brings precision and attention to detail for his role as the teams web designer.